Morella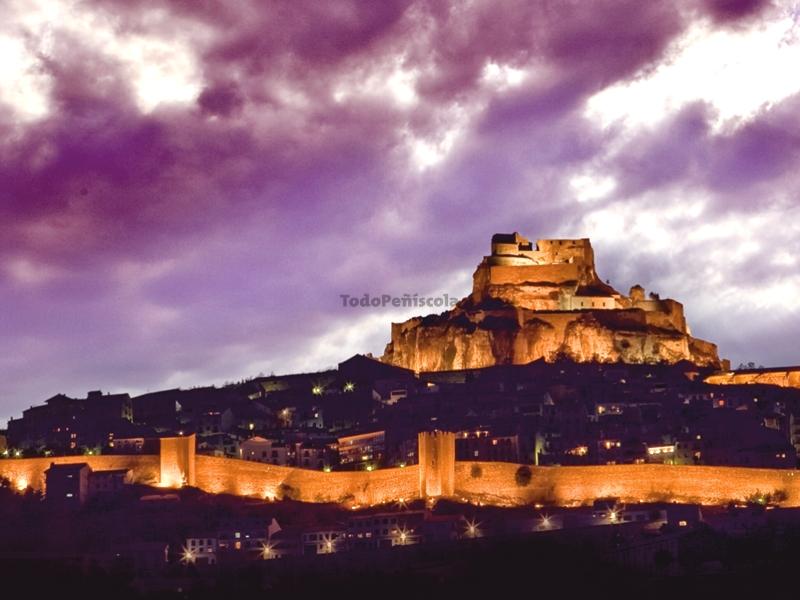 The province of Castellón has two "Crown Jewels": one is Peñiscola on the coast of the Mediterranean and the other is Morella at nearly one thousand meters above sea level. Between these two historical towns with a medieval air protected by their walls and castle, there is only a distance of fifty minutes or seventy kilometres depending on whether you measure it in time or distance.
After a drive flanked by dry-land fields of almond, old carob and thousand-year-old olive trees, woods of oak, holm oak and aromatic herbs, the majestic flight of birds of prey, the outline of Morella is perceived as a transatlantic navigating on a sea of mountains. Just to contemplate this panoramic view is worth the trip to the capital of Els Ports.
Morella is much more than just an impressive view. Morella is a town in which the past and the future are in perfect harmony. A town full of precious details, some of which are spectacular like the Archpriest Church "Basilica de Nuestra Señora la Mayor" which is the most interesting Gothic temple in the Valencia Community or the Royal Convent of San Francisco where a National Tourism Parador will be situated or the "Palacio dels Jurats i Justicia" which nowadays is the Town Hall. Also the arcaded street of D. Blasco de Alagón, with its busy terraces, craft and food shops is an inimitable space. And the "Plaza de los Estudios" or the charming quarter of San Juan, the Jewish quarter, or the impressive view you have from the highest square of the castle with the Zeloquia tower, residence of kings.
In Morella, the visitor can travel in time upon entering the museums, even back to the time of the dinosaurs in the paleontological museum. You can also, however, enjoy the present in its charming and well-known restaurants, the friendliness of its people and the excellence of the farming products and craftwork. If you are lucky enough to arrive when there are 'fiestas', you can take part in the unique folkloristic and traditional displays.
Morella is a "Crown Jewel". King D. Jaime I wrote this in his Crónica:" … Morella es llogar que fa per nul hom del mon, sino a Rei", which means "Morella is no place for any man but the King>".